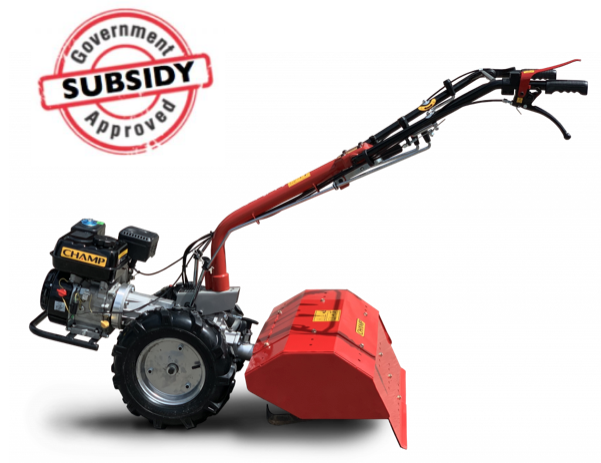 Powerful Features!
Powered by a BIS Approved, CHAMP CH196 Gasoline Engine, this PTO operated rear tine power weeder is able to perform multiple tasks like Earthing-Up, Tilling, Spraying & Rice-Reaping using different attachments for the machine.
Adaptable to virtually any terrain. All controls mounted on handlebars for ease of use. Handle is instantly adjustable up, down, left and right. Reversible handlebars rotate 180 degrees to deliver front or rear PTO capability.
With the Quick Connect Coupling design, there is no requirement of adding or removing nuts and bolts and implements can be changed within a matter of minutes.
Government Subsidy Approved
Gears
2 Forward 2 Reverse
Handlebar
Adjustable and 180° reversible handlebar mounted on shock absorbers to reduce vibrations.
PTO
Independent 2 speed PTO with engagement in oil bath
Overall Dimensions with Rear Tine Tiller
1800mm x 695mm x 1150mm
Engine
CHAMP CH196 Single Cylinder, 4 Stroke, OHV 25° inclined Gasoline engine (BIS Approved)
Transmission
All Gear Drive
PTO Coupling
Quick Connect Coupling as standard fitment for easy and quick implement change
*Product specifications subject to changes without prior notification.